A digital agency that specializes in delivering highly targeted and relevant traffic to your Instagram account
How many times have you seen an account and wondered how they have so many followers and how on earth they have so many likes and comments?!? The answer is: TIME & ENGAGEMENT.. EXTENSIVE ORGANIC ENGAGEMENT. With over 800 million active users, Instagram is one of the most popular social media platforms. People use Instagram for a number of different reasons, but at the end of the day, all of us crave the same 2 things: Followers and Engagement.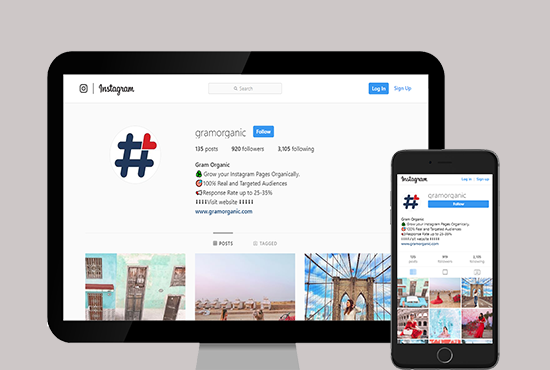 In order to have high engagement rates these days, you must spend time engaging with your network.<– yes that means sitting on Instagram for an average of 5 hours per day engaging with your network! If you are like most of the world, and you don't have an extra 5 hours per day to spend on Instagram engaging, then we are here to help!
Organic Instagram growth doesn't happen overnight and there's no one-size-fits-all method to increase your visibility, but thankfully there are actionable daily routines that provide a sense of structure and pay off in the future. Here at GramOrgapic, we don't use bots, fake or purchased followers and unfortunately, we don't have the power to control other people's' actions so we won't promise you a minimum number of followers, comments or likes. Instead we promise you a minimum number of highly targeted daily actions we make on your behalf, in order to gain Organic growth. GramOrganic is a digital agency that specializes in delivering highly targeted and relevant traffic to your Instagram account.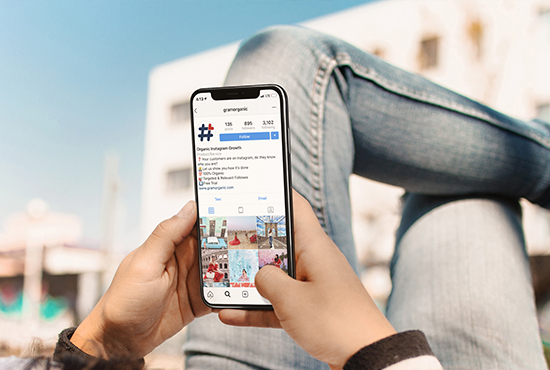 Thanks to the ever changing Instagram algorithm updates, getting more followers and engagement is harder than ever. Here's how our Organic Instagram Growth Service works:
Identify Your Goals – Upon a successful sign up, you will receive an email from us with a form where you will tell us about your account, the niche you're looking to target, and your goals. We want to have a clear understanding of what "winning" means to you.
Identify your Network- Provide us with a few Instagram accounts that have followers you'd like to attract, relevant hashtags, or the right locations. We combine this information with our expertise to identify your ideal network.
We implement a personalized growth strategy & begin engaging with your target network.
You focus on creating incredible content while while we grow your Instagram following & engagement.
Ecommerce · Restaurants · Retailers · Luxury · Jewelry · Fashion · Fitness · Design · Decor
Social Media Influencers · Travel Bloggers · Fashion Bloggers · Lifestyle Bloggers · Digital Nomads · Celebrities
Photographers · Artists · Fitness Coaches · Designers · Models · Musicians
100% Organic
No fake accounts, bots or spam. We grow your Instagram the organic way – by delivering highly targeted, real followers that will follow you and engage with your content.
Personalization 
We analyze your style and specific needs to engage the right audience.
Simple Set up
Sign up & complete our new client form to get started in minutes.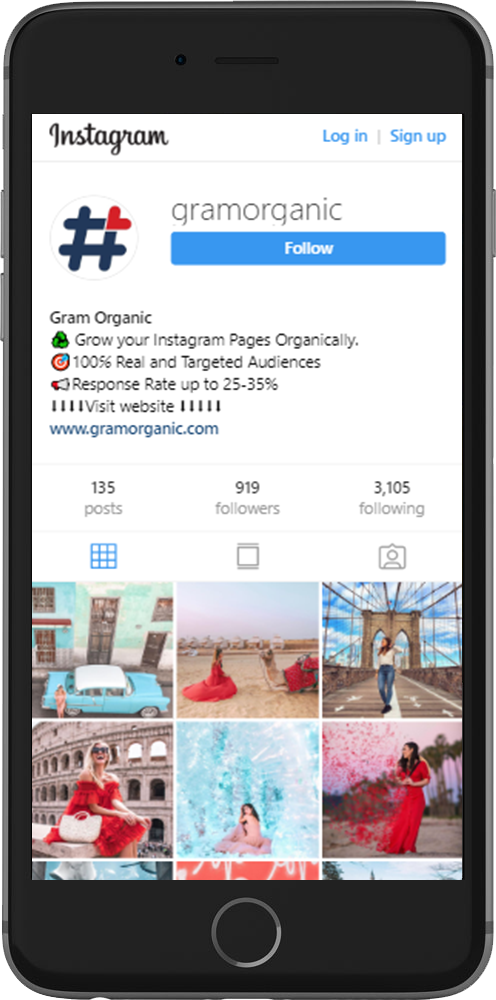 Highly Targeted 
We find the communities that are interested in your content, the people that are most likely to become your customers
Highly Targeted 
We find the communities that are interested in your content, the people that are most likely to become your customers
Highly Targeted 
We find the communities that are interested in your content, the people that are most likely to become your customers
350- 800 actions per day
Scheduled Posting
Organic location targeting
Organic hashtag targeting
Organic audience targeting (Category, Gender)
Organic community tag targeting
3 Days Complimentary Trial
Application of Story growth Hack strategy
Organic Direct Messaging engagement with 100 highly targeted accounts per day
1 private coaching session per month
Ads management
Fully Customized Plan, inquire below for more information
350- 800 actions per day
Scheduled Posting
Organic location targeting
Organic hashtag targeting
Organic audience targeting (Category, Gender)
Organic community tag targeting
7 Days Complimentary Trial
Application of Story growth Hack strategy
Organic Direct Messaging engagement with 100 highly targeted accounts per day
1 private coaching session per month
Ads management
Fully Customized Plan, inquire below for more information
Unlimited actions per day
Scheduled Posting
Organic location targeting
Organic hashtag targeting
Organic audience targeting (Category, Gender)
Organic community tag targeting
Application of Story growth Hack strategy
7 Days Complimentary Trial
Organic Direct Messaging engagement with 350 highly targeted accounts per day
1 private coaching session per month
Ads management
Fully Customized Plan, inquire below for more information
We're currently taking on new projects. Would you like to discuss yours ? Mail us at info@gramorganic.com